Main - Profile for
Sorceress Epele
General information
Real handle
Gywall
Group
Administrator
Total posts
14249 (14249 found, 7.23 per day)
Total threads
98 (98 found, 0.05 per day) -- Projected date for 200 threads: 01-06-23 12:56 PM
EXP status
Level: 178
EXP: 75514326 (for next level: 1219280)
Gain: 7949 EXP per post, 4.510 seconds to gain 1 EXP when idle
Registered on
01-01-12 09:58 PM (1971 days ago)
Last post
12-22-16 03:10 PM (154 days ago)
in what did you catch so far? (Craziness Domain 二番: Kuchi Kopi's Bar)
Last view
05-25-17 10:13 PM (1 hour ago)
at /index.php
User settings
Theme
Touch of Purples
Time offset
1:00 from you
(current time: 05-26-17 01:01 AM)
Items per page
25 posts, 100 threads
Personal information
Real name
Judith
Location
UK
Birthday
Saturday, June 23, 1990 (26 years old)
Bio

To-do: Replace this bio with something somewhat interesting to read..


RPG status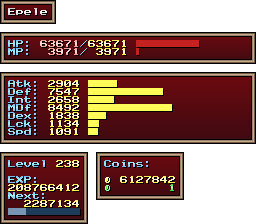 Acmlmboard v2.5.3pre

Development

(4/08/2015)
© 2005-2015 Acmlm, Emuz, et al.
Page rendered in 0.022 seconds. (745KB of memory used)
MySQL - queries: 48, rows: 521/545, time: 0.012 seconds.