Since people have been asking me about maybe switching up the branding of the board a bit I've been keeping it in the back of my head of what we could do. I haven't found anything myself but I think I may have found something that could work: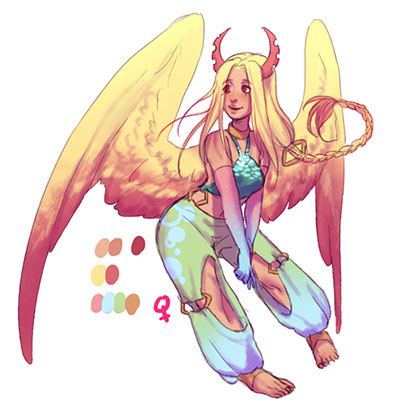 I adopted this character from the artist
Sarybuu
They do mostly traditional artwork so that means this lady here was completely hand drawn!
Why did I opt to adopt her? I think she'd work well for Kafuka! She fits the Dark Fairy typing motif! She's an angel with demonic horns and is cute! Her color scheme is very close to the original Kafuka colors of fire so that's also gives her another connection to Kafuka. She's female so that fits this board to a tee. Lol

I don't have a name for her.. perhaps if you opt to use her as our mascot I'll maybe open up to suggestions. (I'm debating on that one still).
Don't worry if you decide not to I'll do something else with her.. even if it's YET ANOTHER layout

However I'm hoping you guys will like her and see what I see in her!
I'll close the votes either at the end of the week, if it becomes lop sided, or if the votes slow to a crawl. Happy Voting! (Be careful when feeding her)