Main - Profile for
Moline
General information
Group
Normal User
Total posts
33 (33 found, 0.03 per day)
Total threads
7 (7 found, 0.01 per day)
EXP status
Level: 12
EXP: 6884 (for next level: 1037)
Gain: 312 EXP per post, 33103.484 seconds to gain 1 EXP when idle
Registered on
12-19-17 03:48 PM (1318 days ago)
Last post
01-09-21 08:56 PM (201 days ago)
in Who still uses Windows 7? (msg db 'Computer Address',0xa)
Last view
01-09-21 11:40 PM (201 days ago)
at /thread.php?id=2350
User settings
Theme
Acmlm's ROM Hack Domain (Acmlm, KP9000)
Time offset
-5:00 from you
(current time: 07-30-21 07:40 AM)
Items per page
20 posts, 20 threads
Personal information
Real name
Location
4 hours northwest of Hiryuu (Farmington, Arkansas)
Birthday
Monday, January 25, 1999 (22 years old)
Bio
Welcome to this bio! So good of you to join me! I have captured a lot of original Acmlm's board users such as Weasle and Acmlm. When Weasle retired from staff, it wasn't his decision, it was mine. I made the post, and when he joined Board2, that was because I let him but I forced him to leave. I also have Acmlm working on Acmlm board 3 and Acmlm board 4 as I right this. Acmlm board 3 will largely have a look that will remind people of the previous Acmlm board versions 1.92 and 2.5, but Acmlm board 4 will have a look that's out of this world. It will look nothing like Acmlm board 1.92, 2.0 and 3.0. I also have Xkepper, but he's working as an intern meaning he's not subject to the same conditions at Weasle and Acmlm. And a little spoiler.

Acmlm has a twin brother named Tom who goes by Vbulletin on the internet. He was the one who started the popular Vbulletin software. It is rumored that Acmlm and his twin brother do not talk cause Tom hates the Acmlm board series. Rumor has it, Tom sent Acmlm to the hospital because of a BIIIIIIG BLOWOUT between the two. They haven't talked since, and despite rumors of a reconciliation, Acmlm always says this; "It's definitely not happening. Vbulletin would have to be destroyed for rekindling to happen and I just don't see that happening with how many forums use that BUT, if I could convince them to transfer over to my Acmlm board 3 software which will incorporate support to transfer a database from a different forum software such as Vbulletin to AB3, then we might rekindle, especially if I offer him a job on the AB3 team." It was also rumored Tom took a picture of Acmlm and shot at it with a gun when Acmlm board I3 went offline and was archived. It is also rumored that Acmlm plays the piano and the synthesizer in his free time. He also reportedly recorded some synthpop under the blackholeEmuz53215 name.

I also have Randy53215 and am forcing him to play the rock and roll synthesizer ala Marilyn Manson's cover of Tainted Love. He has plans to release some synthrock under the name of XRandyAliureHiryuuKeeper54123. Oye Como Va.
RPG status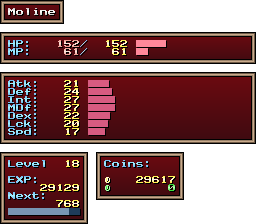 Equipped Items
Weapons
Nothing
Armor
Nothing
Shields
Nothing
Helms
Nothing
Boots
Nothing
Accessories
Nothing
Moline

| | |
| --- | --- |
| Posted on 07-30-21 12:40 PM | |


Acmlmboard v2.5.5 (10/04/2020)
© 2005-2021 Acmlm, Emuz, et al.
Page rendered in 0.034 seconds. (888KB of memory used)
MySQL - queries: 51, rows: 465/497, time: 0.026 seconds.