The whole series? I kind of love Gooper Blooper from Super Mario Sunshine.
It's cute
and has a really cute name.
I'm also really partial to Raphael the Raven and a couple other Yoshi's Island bosses. Salvo the Slime, I think it was? They're adorable and Raphael the Raven's arena is really pretty and a neat as heck concept!!!

If we're talkin' SMB3, I think I like Morton Koopa. I like the little star over his eye and a
giant magic hammer
is a cool ass idea for a weapon. Granted, he doesn't have one in SMB3, but... still! It's so cool!
I'm gonna answer regular SMB3 enemies, too, since I didn't get a chance to: I'm actually really fond of Bloopers in general, especially the ones with the little ones circling them.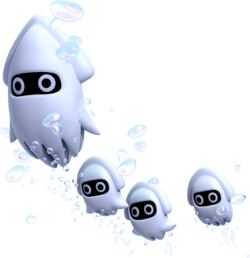 They're so cute! And they're goofy and I like squids and apparently they're
playable in Mario Tennis Aces
, whose release I've totally missed... I love the fact that it's dripping with water, like they fished a random squid out of the ocean to play tennis for them

I'm also really fond of Hammer Bros. They're also pretty fun and goofy looking and I like their designs, but they're also kinda challenging in a way I really like -- you have to develop a really good sense of when to act with them instead of just jumping in. Plus, I like all the little variations that show up in SMB3, like Boomerang Bros...